Walter McGill and the Creation Seventh Day Adventist
Church Hoax by Eugene Shubert
Walter McGill explains the other side of the issue.
The General Conference Corporation of Seventh-day Adventists believes that Walter McGill, a.k.a. Creation Seventh Day Adventist Church, is ruining the reputation and good-will of the Seventh-day Adventist denomination. Therefore, the General Conference has filed for a restraining order seeking to prevent McGill from deceiving the public by his use of the name Creation Seventh Day Adventist Church and any name similar to Seventh Day Adventist Church. 1. The WIPO Arbitration and Mediation Center has ruled that Walter McGill is "misleading consumers" and has registered and is using domain names protected by a Seventh-day Adventist trademark "in bad faith." 2.
Principal Walter McGill's business address is listed as Creation Seventh Day Adventist Church and Academy. 3. The official web site of the State of Tennessee (4) has publicly available records on the private schools in Tennessee (5, 6, 7) and those records indicate that McGill's academy had three students for the school years 2006-7, 2005-6 and 2004-5. I wonder who is responsible for those false reports. David P. Aguilar Jr. (8) is a prominent member (9) of the Creation Seventh Day Adventist Church and he said that, "The academy existed for just a few months in a very rural area of the United States. There was a lack of interest, and it effectively closed down." 10.
The picture of McGill's church prominently displays a big flashy sign but it's doubtful that his church and side business is larger than the average repair area at a typical gas station. All indications from this picture point to an extremely small or possibly even just a one-man local congregation.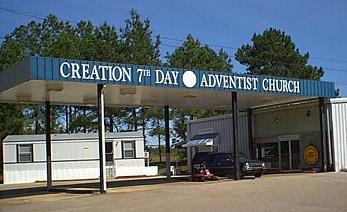 Creation Seventh Day Adventist Church and Academy
1162 Old Highway 45 South
Guys, TN 38339-5216
Phone: 1-888-284-2487
McGill claims to have a sister church in Canada but his website there has no pictures of a church or even a Canadian church address and phone number, just a bunch of links to his main website. 11. Sure, McGill says that he also has church members in Africa and Australia, but they all live in the bush and it's virtually impossible to verify their existence.
Check out crossseach.com's listing for The Association of Creation 7th Day Adventists. 12. It says, "The unity of this voluntary association of sister churches in the United States demonstrates to mankind that God so loved them that He sent His only Son into the world." Who was motivated to lie like that for Walter McGill? CSDA has no association of sister churches.
In speaking of his church in December of 2003, Walter McGill, a.k.a., Pastor Chick, on an internet forum for reform-minded Seventh-day Adventists, admitted that he has a very small following in the United States. "We have total, at the moment, 4 baptized members in the U.S, among others who profess but have not yet been / been able to be baptized." 13. As of January 31, 2010, the only Creation Seventh-day Adventist Church that can be proven to exist with a verifiable internet address is the 3-member church in Guys, Tennessee. 14, 15, 16, 17, 18, 19, 20.
Walter McGill believes:
▪ That his movement is the 7th thunder of Revelation and the 144,000. 21.
▪ That his group has achieved complete victory over known sins.
▪ That the Seventh-day Adventist church is Babylon.
▪ That he has a mandate from God to call true Adventists out of Babylon to join his organization.
▪ That the General Conference of Seventh-day Adventists is issuing the mark of the beast, thus fulfilling Revelation 13:16-17.
▪ That Christians must use the names יהוה (Yahweh) and יהושע (Yahshua) for the Father and Son in worship.
▪ That Christians must keep the New Moons and some of the Annual Feasts found in the Old Testament.


Walter McGill's proof that he pastors a church and has a respectable following.
Look at all the church signs that he made up.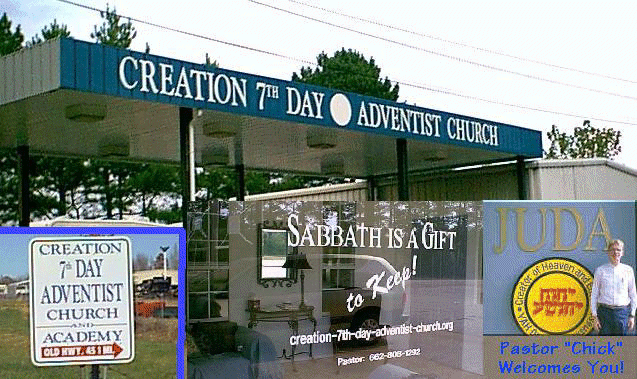 Photos were captured on October 28, 2006 from Walter McGill's appropriately named website,
"Seventh-day Adventist Church Trademark Alert."